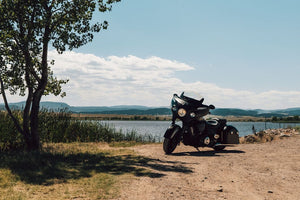 Arnott Motorcycle Air Suspension
Company History
Next year will mark Arnott's 35th Anniversary of manufacturing quality aftermarket air suspension products for luxury vehicles and motorcycles. In 1989, at the age of twelve, Adam Arnott developed a fascination for automobiles, and motorcycles, spending most of his free time tinkering in his parents' garage in Punta Gorda, Florida. His father, Donald Arnott, an avid motorcycle rider, immediately recognized his son's mechanical aptitude and encouraged young Adam's interest. The next year the pair began traveling throughout Florida, repairing automobile air suspension problems, often for little or no fee. Adam's passion, coupled with Donald's selfless satisfaction of helping others, laid the foundation for what would become the most successful, advanced, and innovative air suspension products manufacturer in the world.
TruAIR® Technology
With Arnott's Exclusive TruAIR® Technology, you can be sure to enjoy the smoothest ride. With an onboard compressor and switch, you can easily and safely change the height of your bike to your needs when you want.
LEARN MORE
Become A Reseller
Arnott is committed to helping its distributors, resellers and installers exceed their customers' expectations in regards to Arnott's affordable, high quality, aftermarket air suspension products.
LEARN MORE
INDUSTRY LEADER
Our Suspension Kits are designed and tuned specifically for motorcycles and are not automotive parts bin castoffs like lesser alternatives. With our products you receive less painful bottoming, and a smoother more comfortable ride.
View Products
Exceptional Ride Comfort
Unlike stock shocks, Arnott's adjustable air springs and custom-tuned dampers provide superior ride comfort, safety and luxury. Nothing will smooth out a chattering road or keep your rear tire firmly on the ground better than our Ultimate and Smooth Ride Series Kits. Stay in the saddle longer with Arnott.
View Products
ENTHUSIAST DEDICATION
Encouraged by the early acceptance, Adam and Donald wanted to take their young company to the next level - they wanted to develop their own products: including a luxury brand of air suspension products for motorcycles. After listening to customer needs they tirelessly researched and tested original equipment shocks, and soon discovered that they could improve upon existing motorcycle suspension parts by making them height adjustable. Arnott's onboard switch and compressor provides almost 76mm (three inches) of travel which enabled riders to rest flat footed while stopped or maneuvering their bikes while parking and provides an easier way for riders and their passengers to mount their ride. With a press of a button, riders can then raise their motorcycles before taking off and adjust the amount of air for road and load conditions. Arnott's exclusive Ultimate and Smooth Ride Kits shocks add both compression and rebound damping control for added ride comfort.
From that Punta Gorda, Florida garage to a modest 93 square-meter space in a South Florida... To a larger facility in Central Florida... To several growth-driven sites along Florida's Space Coast including Port Canaveral and now Merritt Island and a facility in The Netherlands... Today Arnott Suspension is a bustling campus of nearly 21 acres and 30.000 square meter including multi-line manufacturing processes with laser-cutting machinery, state-of-the-art distribution, and a multi-lingual call center. In addition, Arnott has a 6.000 square meter Engineering/Research and Development center dedicated to developing, testing and producing air suspension products worthy of the company slogan: "Engineered to Ride, Built to Last®"
All told, Arnott's success is largely the result of daily, painstaking attention to the core beliefs of customer service excellence, incorporating the highest quality components, and providing truly affordable products backed by superior warranties. Today, Arnott continues to innovate with additional U.S. and international warehouses, a massive increase in research and development, and unprecedented product availability through the industry's leading motorcycle parts distributors.